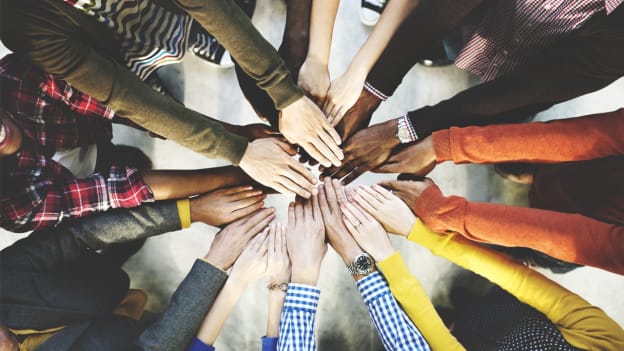 Effective employee relations strategies influence employee engagement which in turn enhance company performance.
Organizations must always emphasize on the importance of healthy employee relations. It is the managers who should make sure that they engage the employees and maintain positive relationships so that the employees stay motivated at all times. For a lesser turnover and higher productivity, good employee relations are a must. The Human Resources team, the line managers and the business owners must focus on employee relations the most.
Several best practices for employee relationship management needs to be followed. The organizations should believe in doing what people want as the employees want to feel good about what they do and where they work. Effective employee relations strategies influence employee engagement which in turn enhance company performance.
The primary reason behind achieving a high employee morale is to bring passion and enthusiasm in all that an organization does and enable the workforce to be successful. Encouraging an open culture and respecting differences will make your employees feel like they are pulling in the same direction with managers being accessible at all times. Practicing an open door policy very religiously makes working in a company truly an experience as the value of a happy workforce and engaged employees is of utmost importance. An inclusive environment and the focus on career development brings out the best in every employee, not just as professionals but also as individuals. An inclusive culture that embraces and values differences be it caste, gender identity, sexual orientation, disability or age, goes a long way in building an organization that is connected. Organizations must celebrate all events, big or small, together as a family.
Promote an Open Dialogue
Employees are valued assets and open communication within an atmosphere of mutual trust is of prime importance to its employees. Realizing that effective communication is always a two way street, organizations should value employees' constructive opinions, suggestions and feedback so that issues of concern can be constructively resolved in the workplace. The free and open exchange of views or ideas conducted in a non-threatening environment provides the ideal forum in which concerns and alternative views can be considered and addressed in an efficient and timely manner. Employees should openly and freely discuss their views and concerns with their supervisors on a regular, ongoing basis. organizations should have an effective grievance redressal system in place which helps in addressing and resolving the grievances in a quick, effective and authentic manner. Employees should be encouraged to share their valuable suggestions, opinions, experiences, feedback, issues, concerns or scope for improvements that they observe in person or process with any fear of retaliation.
Another key to communication is to be transparent. Whenever the organizations have new policies in place or amend any existing policy, they should make sure that there is company wide communication regarding the same.
Make Your Employees Feel Special
Make the employees feel valued. Organizations should welcome employees on their first day at work warmly. During the pandemic several organizations sent over gifts to welcome their new joinees, to wish their employees on their birthdays, anniversaries, major festivals and New Year even though they couldn't be together in the office. They should never miss a chance to appreciate their employees when there is a job well done. Organizations can send hand-written notes, chocolate boxes or simple thank you ecards even for participation in an event. When they handle a situation or customer well, organizations should praise them at all times so that they stay motivated.
Recognize and Reward Hard Work
Always encourage your employees to set goals that are difficult but achievable. Have a performance review every quarter and goals can be set every quarter which are measurable. Employees should be recognized, promoted and rewarded in the annual general meeting every year. Rewards and recognition programs should honor both individuals and teams who go an extra mile to serve the company. Review and recognize the individual and team performances on a monthly basis as Employee of the Month. Consistent and exceptional performances throughout the year must be rewarded at the company's annual function. Employees get inspired to perform better seeing their peers climbing up the ladder each year.
Believe in Learning and Development
Learning and adapting well to changing environments to perform the best over time. Invest heavily in building talent and provide the employees with ample opportunities to grow into larger roles with more responsibilities. With your employees having well-defined career paths, they will be well aware about the possibilities on their horizon so that they feel continuously growing professionally because of which they feel we are quite transparent.
Career framework ensures that the career development aligns with the current business needs of the organization providing cross-functional exposure, challenging roles and opportunity to bloom as an individual or a team. As a part of the performance management system, identify and measure an individual's skill set against the competencies required to perform a task. To provide access to globally acclaimed programs, arrange for certifications and training with some of the best learning institutions and various industry experts.
It is the passion, collaboration, entrepreneurial spirit, the empowerment that transcends all levels of hierarchy and the concept of being the CEO of your own career that will allow all the employees to align behind that single vision and drive with purpose each and every day for personal career satisfaction.
Believe in Work-Life Balance
Fun doesn't result simply in smiles and laughs–it increases workplace happiness and productivity. For a high employee morale, organizations can plan to have fun fridays, birthday/anniversary bashes, movie and weekend outings with families, theme days and festival celebrations regularly. A dedicated team can take care of the fun quotient & plan activities around team building. With the work related stress, it is very much required to have a lively workplace and a friendly environment that helps employees strike a healthy work-life balance.
Believe in hard work and accepting the challenges. Which is why where employees work and how they work is really important to us. Invest in spaces and try to blend the comfort of your employees and their productivity in order to learn, create, engage and connect. Have a room for recreation.
It is not all about giving benefits to the employees, what organizations should believe in is having the right attitude towards their employees when they land in personal dilemmas. With the pandemic and remote work, have a greater focus on improving the employee experience and engagement.
Be Technology Friendly
Implementing software can make a major difference even in employee relations, it automates several tasks and improves communication. Update our systems from time to time, organizations can have automated our punch in and out process even during the pandemic and manage it remotely through their software. Employees can clock in even through their cell phones. This also eliminates redundant timesheets data entry. Have an automated recruitment system and performance management system, starting from goals setting to appraisals and increment letters. Usage of systems and software helps the employees stay compliant and reduce any  unnecessary stress. Use reporting software and reporting tools wherever necessary as they help us visually analyze our business information. With Zoho Analytics, you can easily create insightful business reports and dashboards, get valuable insights from your business data, and make informed business decisions. Encourage cloud collaboration using which your employees can share and co-author computer files, the documents can be uploaded to a central drive for storage, where they can then be accessed by others as well. Using this technology the employees can now work from anywhere as they simply upload, comment and collaborate on the documents.
Have a Safe Workplace
Every employee should be afforded to work in an environment free of sexual harassment. Have zero tolerance policy for any actions that make your employees uncomfortable or scared and take necessary action instantly. Nurture an environment of respect and a culture of diversity and inclusion. Support and care for your employees the most. Workplace safety means a working environment that encompasses all factors that impact the health and safety of your employees. Hold drills on the usage of fire extinguishers from time to time. Use your own office cabs and drivers to pick and drop your employees during the wee hours of the day. Iit is your duty and moral responsibility to look after your employee's protection.
Employees are the Real Decision Makers
When you recruit an employee, give him/her the required space to evolve and let them set their goals to accomplish the tasks. Equip them with all the information to be self starters. Encourage them, guide them and support them without any micromanagement which helps them expand their abilities and come out with flying colors.
Be Flexible & Adaptable
Flexible working hours brings benefit to both the employees and the organization as a whole. If you are adaptable and flexible with respect to time, it helps employees in managing their daily hours of work to suit their individual needs and the needs of the organization. Flexible working hours policy enables teams to manage any changes of routine to avoid unnecessary disruption to the effectiveness of the organization.
Employees should be able to manage their own schedule on the HRIS employee app and coordinate with managers and teammates to build a schedule that works for all. The peers and managers should be notified about the person on leave and everything can be taken care of smoothly. As we move into the third decade of the 21st Century, we must believe that it is essential to focus more on the well-being of our employees, we should make sure that we set up free health check up camps round the year, provide family insurance, emphasize our employees to stay fit and promote a healthy lifestyle.
Incorporating technology along with strategic initiatives has helped us create trustworthy relations with our employees. Hence, it is imperative to have a good employee relations policy in place that makes the employees fall in love with their jobs, that in turn reduces disputes and builds mutual respect. It is the people that contribute to the Mission, Vision and Goals of a company in the long run.
This post is written by Juhi Siyal, SHRM-CP, DiSC Trainer, NLP Practitioner, Manager HR, CloudLIMS.com
Original post link: https://www.peoplematters.in/article/employee-relations/best-employee-relation-practices-you-must-know-28482