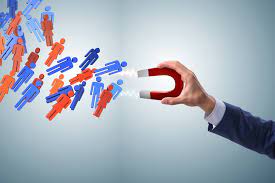 People love doing business with these firms of endearment.
"Loyalty" is real and visible and it helps to create unbeatable advantages for organisations which are founded on the right principles, values and culture.
People are increasingly searching for higher meaning and purpose in their lives.
Therefore, it comes as no surprise that companies which are driven with purpose and passion from the inside have the highest levels of employee engagement, talent retention and development.
The authors of the book Firms of Endearment: How World-Class Companies Profit from Passion and Purpose distilled out the companies today that are the ultimate value engagers, talent developers and value creators. Some of these companies include IDEO and IKEA, Commerce Bank, Amazon, Costco, SAS Institute, Google, Timberland, Southwest, New Balance, etc.
These companies generate emotional, experiential, social, financial value as part of their internal culture.
Organisations that engage in providing an environment where people feel safe without the need to look behind their backs all the time and instead look out for each other through acts of openness, sharing, creativity, collaboration, experimentation and value creation will dominate the market.
The organisation will then reduce the bad F.A.T.S. (Frustrations, Agendas, Tension and Strife)
and increase the good F.A.T.S. (Fulfilment, Ambition, Transformation & Synergy).
This inevitably will make an Organisation grow optimally by fuelling the D.I.E.T. (Desires, Intelligences, Energies & Talents).
Since, human by their very nature lives on the hope of something greater and better; and the need to be part of something bigger, this will then anthropologically make a company thrive and be self-renewing to weather challenges of the future, as it is founded on sound Anthropology win-win human survival
The Starbucks Culture
Extract from "The Leader Markers" By Douglas R. Satterfield September 25, 2015.
"… at Starbucks, I've always said we're not in the coffee business serving people, we're in the people business servicing coffee."
Howard Schultz, Chairman and CEO of Starbucks
Starbucks core values are written like a philosophy, and they are:
• Creating a culture of warmth and belonging, where everyone is welcome.
• Acting with courage, challenging the status quo.
• Being present, connecting with transparency, dignity and respect.
• Delivering our very best in all we do, holding ourselves accountable for results.
• We are performance driven, through the lens of humanity.
Pretty good stuff from a company that sells good coffee … rather, I mean a company that serves people good coffee.
The distinction is important, and this brings the passion to the people in the company to go beyond.
"This is a company that cares for its partners.
It's a company that cares for the world it operates in (so much more than most companies, though of course, there is no perfect company). It's a company that knows how to inspire passion and loyalty in its partners and customers."
"…. every team I worked with was amazing. They were diverse, they were fun, and they were passionate. Even the part-timers in high school or college, or the ones who worked it as a third job for the benefits, cared. We all took ownership in our stores, and when that happens, everyone wins."
"Our regional manager, Denise, took time to write me a welcome card, to make sure to connect personally with me both on calls and in person when she would come tour the state. Who wrote me a sincere, loving note when I had my first miscarriage. These are people who cared. Smart hiring by Starbucks? Yes – but more importantly – smart culture. This is a company that draws people who love, who give, and who care."
The best evidence is seen during the absence of Howard Schultz (2000-2008) when during his absence saw profitability drop…. maybe during that time that founder passion and the "distinction" was amiss, resulting in growth without profitability.

This post is written by our Senior Advisor, Alan Teo from his book, "Creating Winning Culture and Building Supertalent".