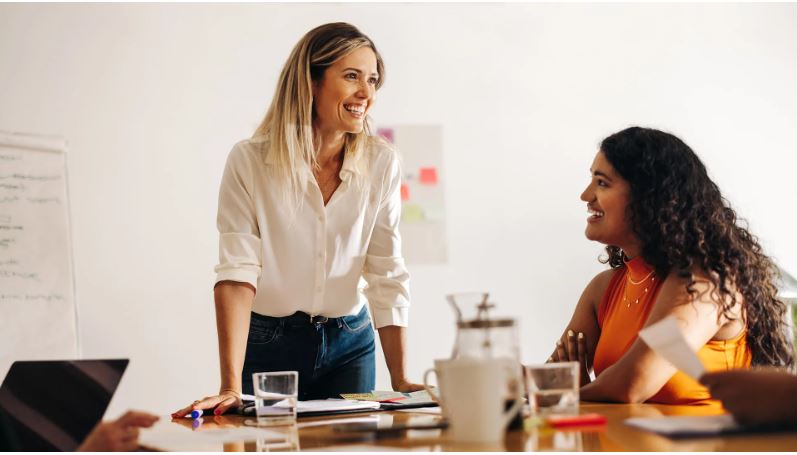 Ever worked in a bureaucratic corporate environment? So have I, and it can be downright frustrating. In a typical hierarchy, there are too many levels of approval to get things done, and too many layers of management and steps required to make a final decision.
In this environment, employees get their motivational wind knocked out of them because of the poor communication that travels down the chain of command. Employees ultimately suffer from this stifling bureaucracy, which clearly communicates to them, "We don't trust you."
The Leadership Lesson in 2 Sentences
One ongoing issue that so many of my coaching clients face today–many of whom are senior leaders–is poor communication between people, functions, and departments, which slows things down and keeps people from performing and innovating at a high level. Whenever I witness the stranglehold of bureaucracy killing communication to move things forward, this is what I tell my executive clients (the lesson):
Communication must travel via the shortest route necessary to get the work done, and not through your chain of command.
The simple solution to fix your bureaucratic processes is to allow the free flow of information to travel in any direction, between all levels, regardless of someone's status or position. If something needs to get communicated in a way that will increase efficiency and productivity, it has to travel the shortest distance.
We don't need individual contributors to ask permission from their managers to get something done. Chances are pretty good that a manager in a top-down, command-and-control bureaucracy will move the request up the chain to a director or a VP, who will take their sweet time approving the request before it travels down the chain of command to the original manager, who will then give the employee permission to act. By that time, the disengaged employee has probably given up and moved on (figuratively and literally, as in quit their job).
We must kill bureaucracy and make it absolutely OK for people to use their brains, solve problems, own decisions, and talk directly to make the right choice.
Top-Down Hierarchies Will Fail
In a post-Covid world, top-down hierarchical management styles that direct traffic one-way — up the chain — will collapse, especially since today's knowledge workers typically know more than their managers about their own areas of specialization.
The right approach is to give smart people the keys to solving problems on their own. You'll find that in high-performing organizations that empower their knowledge workers, information is shared openly across fewer reporting levels, and people are able to use it to make the right decisions quickly.
The starting point is to empower workers by giving them autonomy to make decisions at the moment. Workers need the right data, insights, and technology to make high-quality decisions. Putting this trust and power in the hands of workers is seen as critical to agility and success.
This requires big changes in both process and culture, and senior leaders must drive this change from the top by providing their full support and leading by example.
Autonomy, or the ability to control what you do, when you do it, and with whom, is one of the fundamental elements of what intrinsically motivates human beings, which leads to better performance.
This post is written by Marcel Schwantes.
Original post link: https://www.inc.com/marcel-schwantes/2-sentences-that-will-teach-you-best-leadership-lesson-you-may-hear-today.html